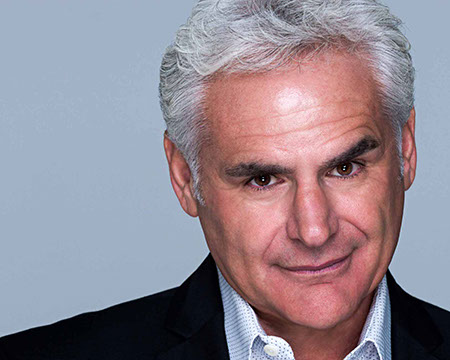 For FOUR successful seasons JOE NIPOTE played FRANKIE WATERS, the expert mechanic who lovingly cares for the Viper in, VIPER, the one-hour weekly action series produced by Pet Fly Productions in association with Paramount Network Television. Nipote is the only original member of the Viper team since it's inception in 1994 through 1999!
Growing up in Detroit, Nipote was determined from an early age to make a living as a performer. He earned an acting scholarship to Central Michigan University, but quit one semester shy of graduation to try out his talents in Hollywood. After supporting himself as a racquetball instructor among other jobs, Nipote landed a spot as one of five new up and coming comedians on HBO's "Fifth Young Comedian's Special. In fact it was Legendary comedian George Carlin's wife, Linda who saw Joe one night on stage and cast him on the comedy special which featured the funniest and brightest comedians of the time. This appearance led to numerous television appearances and live engagements as Joe was requested by some of the biggest headliners of the day, opening for such acts as Tina Turner, The O'Jay's, Dwight Yoakam, Barbara Mandrel, Dave Mason, Judy Collins, Ben Vereen, Frankie Valli, Robert Goulet, Suzanne Somers, Freddy Fender, Captain & Tenille, Louise Mandrell, Tower of Power and countless others. After making a name for himself on the Comedy Club circuit, Joe was offered and accepted the morning show "host" position back in his hometown of Detroit's on the oldest and most respected rock and roll radio station, 101 FM WRIF, where his improvisational, character driven humor, quickly endeared him to the listening public.
Following his year WRIF, Nipote returned to Oakland University and received his Bachelor of Arts degree. As a graduation requirement, he starred in the award winning play, "Amadeus" as "Salieri," and his committed portrayal of the disturbed composer won him a best actor award and selected to represent his state in the Irene Ryan Theatre Award Competition.
Longing for Hollywood, he subsequently took his act back to Los Angeles and became a regular contributor to the KIIS-FM morning show hosted by Rick Dees, where his "Candid Phone" as Jack Nicholson telephoning the LA Forum maintenance department to locate his sunglasses, that allegedly fell in the toilet during a Laker game, received so much attention for it's believability, that it prompted a call from non-other than the real Jack Nicholson himself, to inquire who was behind the crafty impression.
Television work followed, with Nipote appearing on Rick Dees' "Into the Night," Happy Days, "The New WKRP," The Jefferson's, "Normal Life," "Northern Exposure," and "Murphy Brown." Cast as Candace Bergen's secretary #48, Nipote was supposed to portray, a "self-absorbed secretary would-be comic from hell," but his performance proved so funny, he was asked repeatedly by the director Peter Bonerz who played the dentist on the Bob Newhart Show, to be "less funny," because his performance was upstaging the star of the show. Joe landed a few pilots that unfortunately either never made it or dropped his character which included, Sibs with Dan Castalenetta the voice of Homer Simpson, Jamie Gertz and Alex Rocco who played Moe Green in The Godfather and Unhappily Ever After from the producer of Married With Children.
In 1994 Nipote was handpicked by Steven Spielberg himself to play "Uncle Stretch" leader of the "Ghostly Trio" in Universal/Amblin's animated feature, "Casper." Joe followed the feature by bringing his ghostly character to the animated series on the Fox network as well as," "Trash" in "What-A- Mess," "Spider Spinelli" in the new "Superman," "The Mask," Disney's "Duck Daze," "Justice League Unlimited" and countless others.
Along with Viper and his cartoon series, Nipote has countless CD-ROMS including two of them FOR LUCASARTS: "Monkey Island" and "Grim Fandango." Monkey Island won CD-ROM game of the year, Joe played the wicked "Wharf Rat" and many of the "Pirates." In "Grim Fandango", he portrays no less than three lead characters as well as a lead character in the very popular Black Isle's, "Ice, Wind and Dale II." In 2010 Joe lends his voice for 5 different characters in the mega blockbuster Mafia II for 2K Games.
As Viper wrapped up it's successful 98-99 season, Mr. Nipote wasted no time and continued his work playing two roles in the Paramount pilot for CBS titled, "It's True," also from Pet Fly Productions. In "It's True," he plays "Uther" the lovable bridge troll and "Nick" the opinionated and often caustic espresso guy.

Joe also tried his hand at writing and had his first script optioned this year by Fox Family Channel for his story titled "Angel & the Mobster", a comedy about an overly enthusiastic angel sent down to earth to save an innocent soul caught in a mob hit. But after completing his mission, the angel hears the mobster's plea for help and without thought or hesitation, he saves the mobster, which creates a whole bunch of problems between Heaven and Hell.
Joe has continued to pursue his first love of acting in movies, "Back By Midnight" in which he co-stars with Rodney Dangerfield playing the role of "Ears", a safecracker, then he followed with a small by hilarious performance in "The Last Tenor" also starring Rodney Dangerfield which is currently available at video stores, and also in "Cloud Nine" a new comedy soon to be released starring Burt Reynolds and "Soul's Midnight", a cheesy vampire flick in which he co-stars along with Armand Assante.
In 2010-2011 you can see Joe on episodes of HBO's "Curb Your Enthusiasm, and Disney's, "Suite Life On Deck."
Joe has always been very passionate about performing and reading for children, something he has done since he was 16 and worked for the City Of Southfield Library where he was known as, "Conductor Joe" traveling to schools in a makeshift rolling theater and performing stories and puppet shows for children. Joe will come to your school and perform his soon to be published children's books, "Eggy Yolk™ and the Dirty Rotten Dozen©", "Something Stinks©!" & "Spinelli-The Spider Who Hates The Taste Of Bugs!"
Joe has returned to the stage after 10 years producing his own standup comedy shows for various charities all across the country called, "Joe Nipote's comedySLAM™, A Night Of Slammin' Standup Comedy™!"
Look for Joe on the big and small screen!